Skip to Content
Rely On Our Proven and Professional Trail Building Process
Whether you are just starting to explore what's involved in building trails or you're looking to add to an already thriving trail network we can help. All of our services are scalable and tailored to the client's specific need. From feasibility planning and community consultation to creating a working design that will be used for construction we can do it all. We pride ourselves in our methodical approach that depends on client input and encourages ownership amongst stakeholders.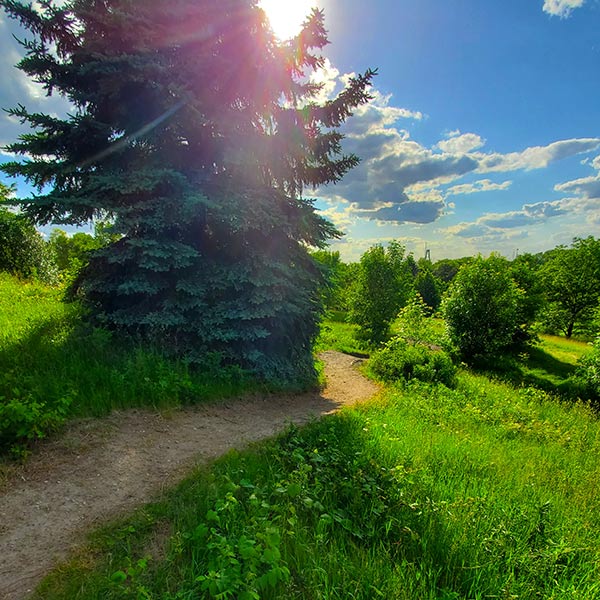 We Can Help With Feasibility Planning
Determining the best location and the overall scope of any capital project is important but it is critical when you're considering building a Trail or Skills Park. Performing a thorough site evaluation is the first step if you are to accurately determine the viability of your project. The subsequent document becomes an incredibly valuable tool that will allow potential stakeholders to determine if the chosen site and the expectations for the finished project align. During the feasibility planning phase things such as budgets, project scope and community involvement are examined and comprise the project expectations. The process does not need to be complicated, contact us today to discuss how we can simplify every step along the way.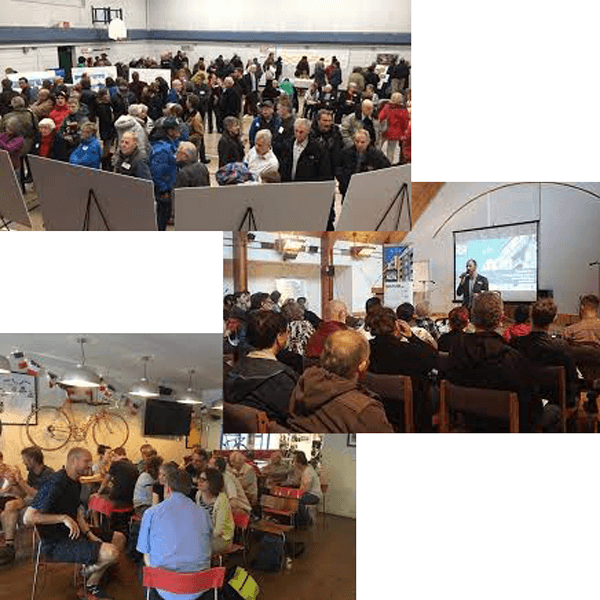 Community Consultation & Education Services
Meeting with riders, community leaders, and potential stakeholders to discuss expectations is a great way to build trust and a sense of ownership in the outcome of a project. Discussing the potential of the proposed site, along with any limitations it may have, is the first step in bringing everyone together on the same page, our goal is to set realistic expectations for everyone involved. We want to determine with reasonable accuracy the experience level of the local ridership and what they hope to experience on the trail, this helps us in the design phase to provide trails that are challenging without being underwhelming or overwhelming. A budget estimate begins to take shape through this process; it is often now that the financial stakeholders are identified. For many involved in these consultations, it is their first exposure to the concept of a Trail or Skills Park; it is very important to us that everyone involved get the answers and information they need. We pride ourselves in the ability to educate and inform, contact us today to see how we can help engage your community in a meaningful, productive way.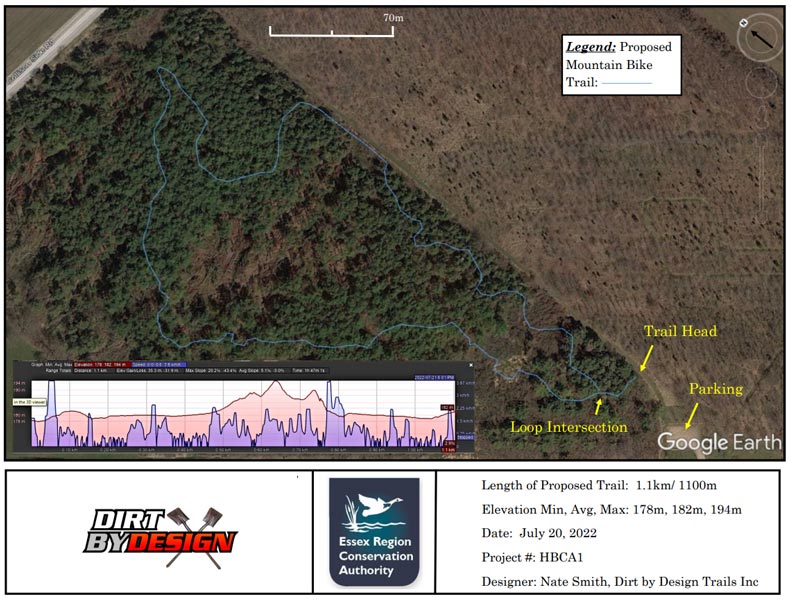 Design Development
The design of any Trail or Skills Park is the culmination of information gathered during the feasibility study and the feedback from community consultations. We now have an established budget and project expectations, our task is to maximize the impact of the budget given the project expectations. In the case of a Skills Park, we would produce a scale drawing incorporating the features and elements discussed in the consultation process. This design can be adaptable, further consultations with primary stakeholders are possible and input is always welcome. The process of designing a Trail is much different, we rely heavily on the feasibility study but the design work is done in the field. We use the information gathered to set the path, placing markers in the ground to establish the tread of the trail. When completed we are able to GPS the trail from beginning to end noting special features and potential obstacles. We are then able to produce a trail map that includes satellite imagery and relevant topographical data. This map can also be shared with primary stakeholders and the feedback received can be used to adjust the design as needed. With over 30 years of design experience, our team looks forward to providing you with a safe, rider approved design that will exceed all expectations, call today to learn more.
Construction Services
With the site chosen and the design set, the exciting work of breaking ground can finally begin. First and foremost, our entire team is committed to working safely and we strictly adhere to Federal and Provincial Workplace safety guidelines. These projects require a significant amount of build material and the specialized equipment required to move and shape those materials. The overall scope of the project will ultimately determine a realistic timeline for completion. Smaller projects can take as little as two weeks to complete, whereas multi-phase trail network projects can take up to a year. A timeline estimate and tentative start date are generally available towards the end of the Design Development stage. Contact us to begin exploring the possibilities of a new Trail or Skills Park; construction will begin sooner than you ever thought possible.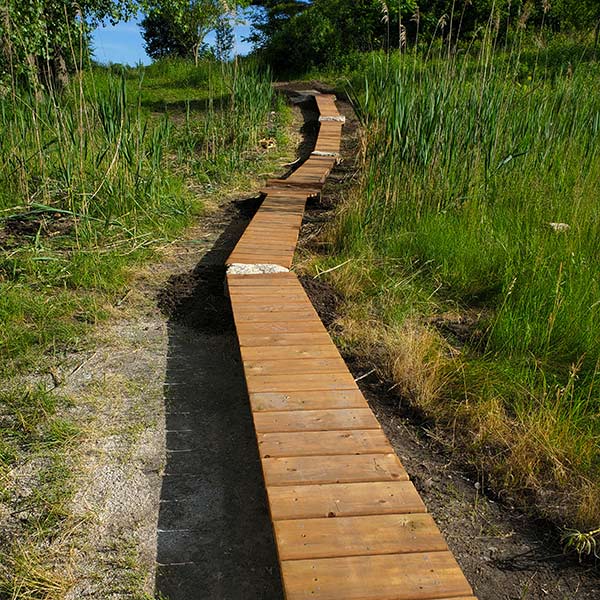 Think to the Future With Sustainability Planning
Building a Skills Park or a Trail Network is the first step in a series of steps required for long-term sustainability and community enjoyment. Depending on the type of project and the materials used during construction, the trail may require maintenance to ensure the best possible rider experience. External factors such as excessive use, weather-related erosion, or neglect can quickly create a situation where the quality of the trail is severely compromised. Maintenance agreements are an effective way to ensure that critical maintenance is completed regularly and by a qualified member of the Dirt by Design Trails Team. These agreements can be tailored to meet the needs of each unique facility. During the community consultation phase, we can explore the use of different construction materials that will either increase or decrease the maintenance burden. More and more projects are incorporating asphalt and other bonded materials to greatly reduce the need for short-term maintenance. Contact us to learn more about how effective long-term planning is critical to the success of any new project.
Make Your Community Stronger
Our goal is to consult with the community, local riders, and stakeholders involved to ensure that everyone is heard and ultimately on the same page regarding the new project. This helps to create trust and transparency in the process and leads to a much more successful outcome for all parties. Contact us today to schedule a preliminary site visit and consultation.
Don't Hesitate. Give Us a Call Today!