Skip to Content
We'll Design and Create Your New Park
Whether you've been riding for 30 years or just bought your first bike, our bicycle skills parks are designed for everyone. Our team has the expertise required to design and build a Skills Park specifically tailored to your community needs and expectations. Don't hesitate to contact us to learn more about our services and how our experience can benefit your community.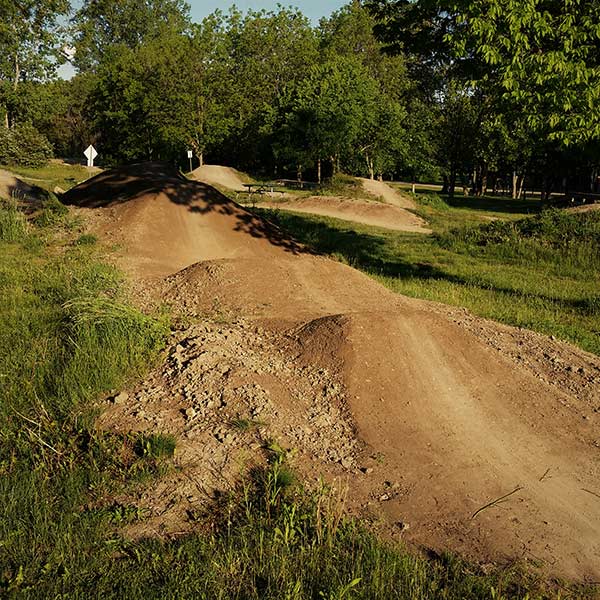 Rethink Traditional Recreation
Bicycle skills parks are a new phenomenon in the public recreation landscape. The lasting physical and mental health benefits of cycling have been proven time and time again, and a bicycle skills park provides a community with a purpose-built, controlled, and safe facility that everyone can enjoy. Our bicycle skills parks incorporate expertly designed and tested features and obstacles built to maximize the fun factor for the widest range of skills. We focus on rider progression by creating incremental stepping stones that encourage beginners to some day become experts, in doing so we help to create life long participants. Contact us to learn more about the overwhelming benefits of a bicycle skills parks and how we can integrate one into your community today.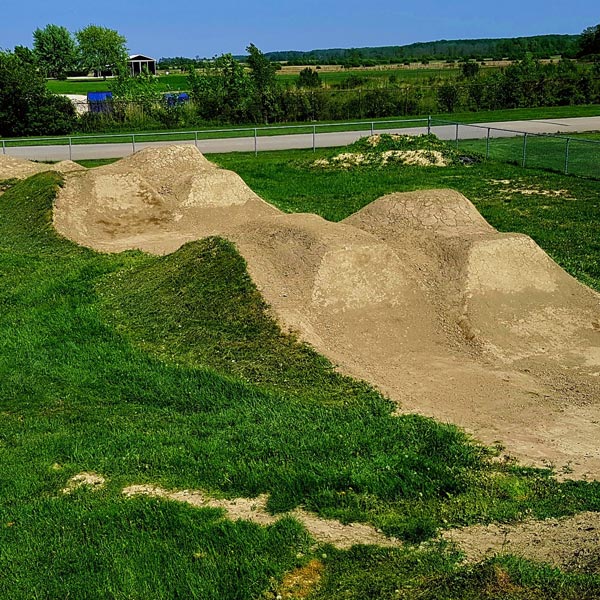 Fun for the Whole Community
The key to building a safe and exciting bicycle skills parks is understanding how new riders develop their skills and how experienced riders push their abilities even higher. We strive to create long-term participants, the park must provide a challenging environment for all ability levels at any age. A "something for everyone" approach allows a person with an interest in cycling to find an activity that they enjoy, and because there is progression through all the activities trying something new is suddenly within reach. We design our facilities to be a community hub, regardless of your age, background, or skill level. We would be thrilled to walk you through the process of bringing a Bicycle Skills Park to your community, please contact us today.
Benefits of a Bicycle Skills Park
The main benefit of a skills park is it allows riders to develop the fundamental skills they need to master a bicycle, such as balance, braking, bike control, spatial awareness, and risk assessment. Riders have been jumping dirt mounds since the advent of the bicycle, thankfully, through innovative design and construction practices getting those wheels off the ground is safer than ever. These facilities become a community hub for all cyclist, a place to gather and share what they love. The social benefits of cycling and the positive support that comes with it cannot be understated. Whether you are considering a large scale, multi faceted project or you would like to test the waters with a small scale Bicycle Skills Park contact us today to discuss the features, benefits and expectations.
Increased Tourism
Bicycle skills parks are still rare in most towns and cities. Cyclists are extremely passionate, and as a result, they will travel extensively for the opportunity to ride a top-notch facility. Bicycle tourism injects tens of thousands of dollars into local communities each year through accommodation, food, and fuel sales; and this benefit continues year after year.
Getting Kids in Nature
Our bicycle skills parks inspire kids to put down the screens, step outside and enjoy all that nature and biking have to offer. Young people need to move, they need physical activity to grow strong and be healthy. More than ever, recreation options need to be exciting and engaging to be able to compete in the world today.
Getting the Family Together
The whole family is able to participate in a safe and healthy activity together. Whether you prefer the difficulty low, want to develop some advanced skills, or experiment with jumping, our bicycle skills park offers something for the whole family regardless of age.
Don't Hesitate. Give Us a Call Today!